1000 Free Medical Marijuana Recommendations for San Jose Residents Today 7/10 at City Hall Rally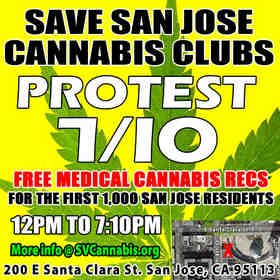 Cannabis Clubs will be protesting today in front of San Jose City Hall from 12:00pm-7:10pm Thursday, July 10th. The first 1,000 San Jose residents to attend will be given a voucher for a free medical cannabis evaluation, and if they qualify as a medical cannabis patient, they can get a free Medical Marijuana Recommendation (aka: a "cannabis card"). All patients, collective employees and community supporters are urged to attend the protest and to sign a petition for a referendum that would stop the city from closing collectives in just 8 days, on July 18th.
Full Article:
http://uspolitics.einnews.com/pr_news/213171277/1000-free-medical-marijuana-recommendations-for-san-jose-residents-today-7-10-at-city-hall-rally
Hemp Can Save the Planet
Recent Posts
Help Support JackHerer.com
If you would like to make a donation, thank you.