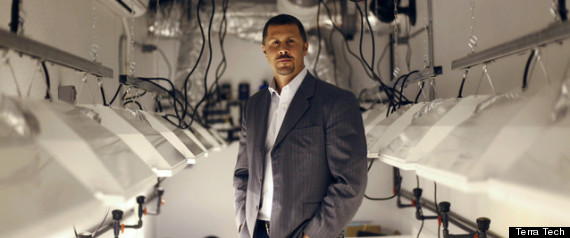 As far as Derek Peterson sees it, Wall Street can't compete with the marijuana business.
After a decade in investment banking, in late 2009, Peterson learned that a friend's marijuana dispensary was clearing $18 million a year, dwarfing Peterson's $300,000 to $400,000 annual salary at Morgan Stanley.
"The place was the size of a Starbucks and had about 900 patients a day," said Peterson, now 38. "I was a finance guy, always analyzing different industries. I started looking at the products and services utilized in this industry, the economics behind it and how I could prosper from a peripheral business."
Peterson launched GrowOp Technology in May 2010 as a side business, selling "plug and play" mobile hydroponic trailers equipped with everything necessary to grow medical marijuana.
Morgan Stanley fired him seven months later for his pot side business — unfairly, Peterson claims. He said saw many of his colleagues running side businesses.
"Morgan Stanley Smith Barney believes it treated Mr. Peterson fairly and appropriately, including in its application of its well-established policy requiring disclosure and approval of outside business activities," a Morgan Stanley Smith Barney spokeswoman told The Huffington Post.
Rather than joining another Wall Street firm, Peterson decided to get serious about weed. Through one of GrowOp's investors Peterson had the opportunity in February 2012 to merge with Terra Tech Corp., a publicly-traded firm that was getting out of the voice IP industry.
Besides selling hydroponic trailers for $30,000 to $80,000, his company makes hydroponic equipment, acquiring smaller retailers and creating new technology, including an iPhone app that allows growers to monitor crops remotely. Terra Tech projects 2012 revenues of more than $1 million.
HuffPost Small Business recently asked Peterson what it's like to go from Wall Street to weed.
Complete article here:
http://www.huffingtonpost.com/2012/08/20/derek-peterson-terra-tech_n_1812851.html