Hemp field at sunrise (Vote Hemp)
A bill to allow farmers to register to grow industrial hemp in Kentucky was filed Thursday. House Bill 286 has 12 co-sponsors.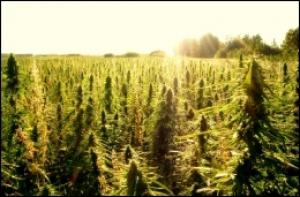 Hemp field at sunrise (Vote Hemp)
The bill would create a process through which farmers could apply to grow hemp and then be vetted by state officials. If applicants passed a background check, they would pay a fee to be registered to grow hemp.
Hemp production is prohibited under federal law (unless the DEA authorizes a permit, which it doesn't), and the bill acknowledges as much, saying "nothing in [this bill] shall be construed to authorize any person to violate any federal rules or regulations."
But bill supporters said passage of a hemp legalization bill would send a message to Washington that Kentucky is joining the list of states that want to grow hemp. Kentucky Agriculture Commissioner James Comer, a former House member, is among those supporters.
Read complete article here:
http://stopthedrugwar.org/chronicle/2012/jan/20/hemp_farming_bill_filed_kentucky