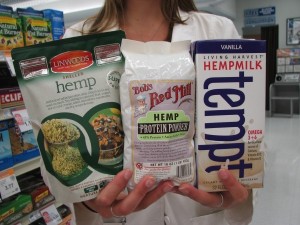 PHOTO BY EARL HORLYKL
Hy-Vee registered nutritionist Sarah Nelson holds various hemp-filled food selections.
Is it bad when scientists suddenly jones for boxes of Screaming Yellow Zonkers, while being stoked about listening to Blue Oyster Cult on the "King Biscuit Flower Hour," and quoting favorite lines from the movie, "Half Baked," at will?
Well, walking down the aisle of Hy-Vee's Health Market, Weekender Weird Science Club members couldn't help but admit we wanted to get the down low about hemp.
Nope, we're not talking about marijuana. Instead, we're talking about a different component of the plant with the Latin name of cannabis sativa.
Hemp has long been used as a source of nutrition and Hy-Vee currently has a bumper crop of products boasting this wonder weed.
OK, let's begin by addressing the elephant in the room. Is there really any difference between hemp and good ol' "Mary Jane?"
Actually, a lotta people confuse the two but, unlike pot, hemp isn't not known for its psychoactive attributes. While it's true that the psychoactive element of marijuana, tetrahydrocannabinol (or THC), may, in some cases, exist in hemp, the amount is truly miniscule.
In other words, you'll need to eat a boatload of hemp waffles to get in touch with your inner Snoop Dogg.
And according to Hy-Vee registered nutritionist Sarah Nelson, that's where you'll most likely find hemp: in frozen waffles or in milks and in ice creams.
"Hemp seeds can also be found as a supplement to all-natural peanut butters, toppings in salads and even giving an extra zing to things like home-made power bars," she explained.
What makes hemp so healthy is the inside of its seed, aka the hempnut, which happens to be one of the richest sources of essential fatty acids.
In fact, Nelson said the oil from hemp helps to balance the health benefits scale of the Omega 3 family of fatty acids (stuff that lowers high blood pressure and strengthen weak immune systems) and the Omega 6 family of polyunsaturates (stuff needed to treat circular problems and hypertension).
"Hemp is also great for the brain," Nelson said. "It keeps our blood circulating and preserves brain functions even as we age."
Read complete article here:
http://www.siouxcityjournal.com/weekender/food/article_b835f536-1990-523a-9c9d-b3437b3a155a.html