The Huffington Post  | By Matt Ferner & Christopher Mathias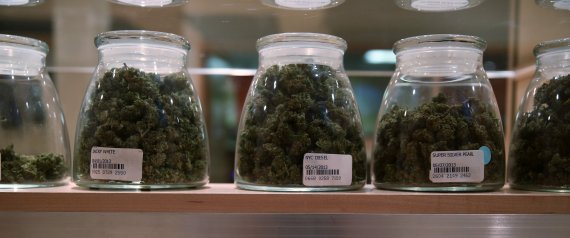 Jars containing various strands of medical marijuana sit behind a display case at the River Rock Medical Marijuana Center in Denver, Colorado, on May 16, 2013. (Anthony Souffle/Chicago Tribune/MCT via Getty Images) | Chicago Tribune via Getty Images
On Wednesday, Cuomo announced that New York will be the second state to launch medical marijuana trials for children suffering from epilepsy. Those trials, however, are limited to Epidiolex, a drug developed by GW Pharmaceuticals that contains a plant-derived, highly purified form of cannabidiol, or CBD, a non-psychoactive compound found in cannabis. CBD is often used for medicinal purposes, but doesn't produce the "high" sensation associated with marijuana.
While Epidiolex offers promising possibilities, medical marijuana advocates were outraged by the governor's announcement, saying that limited trials don't go far enough for patients in the state and that Cuomo needs to come out in strong support of the Compassionate Care Act now.
"We don't need a limited research program that will only help the lucky few who can get in enrolled," said Wendy Conte of Orchard Park, New York, whose daughter Anna suffers from a severe seizure disorder.
Full Article:
http://www.huffingtonpost.com/2014/06/06/new-york-medical-marijuana_n_5446890.html?utm_hp_ref=politics