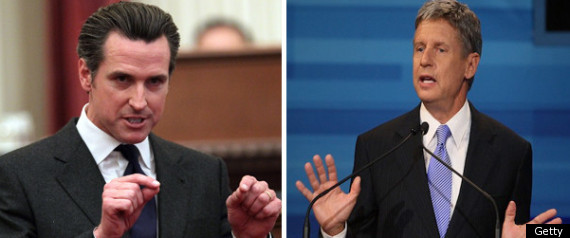 The Huffington Post   Kathleen Miles
It is rare for a politician to openly advocate the legalization of drugs as the solution to the country's drug problem. But that's just what California Lt. Gov. Gavin Newsom and former New Mexico Gov. Gary Johnson did this week at the four-day International Drug Policy Reform Conference in downtown Los Angeles.
As the Los Angeles Times remarks, with reggae music blasting and people wearing marijuana leaf-shaped pins, the conference does not seem a likely event for a GOP presidential hopeful to attend. And yet, Republican candidate Johnson, a libertarian often compared to Ron Paul, stood in front of the conference audience and promised that if he was elected president, he would fully pardon anyone in prison for a non-violent marijuana crime.
Read complete article here:
http://www.huffingtonpost.com/2011/11/04/newsom-johnson-drug-conference_n_1076573.html