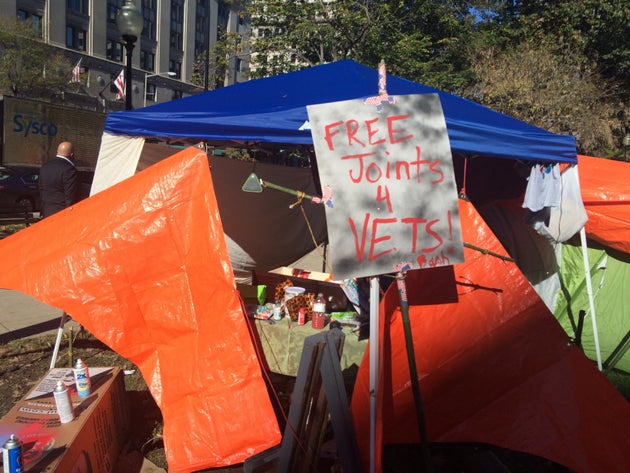 PHILIP LEWIS"Pot Over Pills" protesters are pushing medical marijuana as an option for treating veterans with PTSD.
Jose Martinez, who said he served in Afghanistan and lost his arm in 2012, traveled from California to participate in the protest. Martinez, 26, said that once he got back, opiate pills sent him into a period of depression.
"I went from being this statue, this amazing person that was unbeatable to … [being] wheelchair-bound for life. I hated everybody, I didn't want to be around anybody," Martinez said. "Opiate pills just induced me into all that. I started getting more and more depressed."
According to its website, the VA currently provides two forms of cognitive behavioral therapy to veterans with PTSD to help them understand their trauma and have less fear of their traumatic memories.
A recent study in the Journal of Psychoactive Drugs suggested marijuana was effective for reducing post-traumatic stress symptoms. Patients in the study reported 75 percent reduction in PTSD symptoms when smoking marijuana, though researchers said the issue needs a closer look.
Full Article:
http://www.huffingtonpost.com/entry/pot-over-pills-protesters_5643912ae4b045bf3ded698a