The ongoing federal offensive against medical marijuana production and distribution in California is weighing ominously over the state's billion-dollar-a-year medical marijuana business, but while the industry could take some casualties, patients could suffer, and the battle field could get ugly, the feds can't stop it, a trio of well-placed activist observers said this week.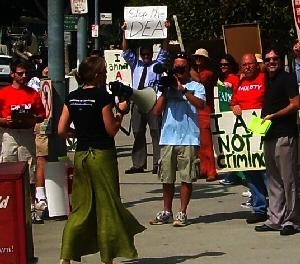 medical marijuana protest, 2006 (photo courtesy ASA)
Despite the Obama administration's famous 2009 Justice Department memo saying it would not interfere with operations complying with state laws in states where it is legal, the federal government has been raiding medical marijuana operations at a pace faster than the Bush administration. This year, the administration has become evidently more hostile, with a range of federal agencies doing what they can to make life difficult.
The Treasury Department has been scaring financial institutions away from dealing with medical marijuana businesses, the IRS is exercising punitive tax policy decisions designed to run them out of business, and even the Bureau of Alcohol, Tobacco & Firearms has gotten into the act, warning gun dealers that medical marijuana patients are "addicts" who can't legally purchase weapons.
Tax liens and banking hassles are one thing, but being confronted by paramilitarized DEA raiders, threatened with having properties seized, or being faced with lengthy federal prison sentences is a whole other category of hurt. And that's what really has California's medical marijuana community up in arms. Between threatening news conferences by federal prosecutors, dozens of warning letters to landlords going out, and a steady drumbeat of DEA raids, medical marijuana patients and providers are scared — and angry.
Read complete article here:
http://www.stopthedrugwar.org/chronicle/2011/oct/19/feds_cant_stop_medical_marijuana